Sponsor, ice hockey: Case Sponsoring with Pelicans
Send greetings to the team from your couch
Best photos shared on social media and on the team's homepage together with the sponsor logo.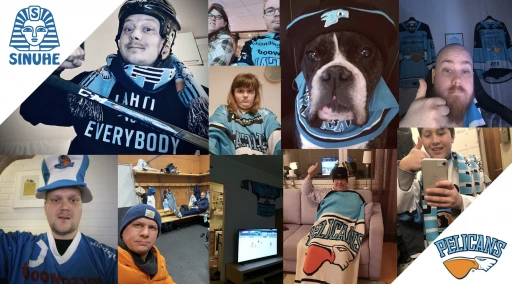 The sponsor received new visibility among the fans. Over 10% of fans activated.
What are sponsors paying for when nobody is at the stadium?
Let sponsors connect directly with the fans. Bring sponsors onboard to your fan activation campaign. Give them measurable visibility on all your digital channels. Thrill and reward your fans while at it!
The sponsor can clearly see that their logo is being seen by lots of fans even when their banners in the stadium are not.
Sponsors can be involved in sharing the most authentic and interesting content with the fans, with the least amount of effort, and with full control.
People like and trust authentic content which drives them to spend more time with the team and return again and again. They might even want to share their own version to be part of the fan community. More engagement proves more awareness and value for the team and the sponsor.
Get sponsors' visibility to the next level.
Capture the moment, capture your audience
We make it easy for brands and media to collect photos and videos and use them responsibly so that they get the best engagement from their audiences
Try free for 7 days